Unsere Zucht
Our stud
St.Pr.St. (Westf. u. Hann.) Deja vu
Schonmal gesehen?... Klar, ihr Papa ist unverkennbar
Already seen? ... Sure, can't deny her daddy
Damon Hill
Donnerhall
Donnerwetter
Ninette
St.Pr.St. Romanze
Rubinstein
St.Pr.St. Pia
Finette
Florencio
Florestan
Walessa
St.Pr.St. Duenett
Duerkheim
St.Pr.St. Winnie
Diese 2011 geborene Dunkelfuchsstute hat schon voll angegriffen.
Elitestutenschau Westfalen, Stutenschau Hannover, Stutenleistungspruefung, Reitpferdepruefung, ... sie ist immer vorne mit dabei und begeistert durch ihre drei beeindruckenden Grundgangarten und die hervorragande Rittigkeit. Wir versuchen ihr einen behutsamen Einstieg in den Sport zu ermoeglichen. Daher reiten wir mit ihr zwischendurch aus und sie kommt jeden Tag mit ihren Freunden und Geschwistern auf die Weide. Wir sind gespannt zu sehen wie sie sich entwickelt.
This dark chestnut mare (born in 2011) has already thrown her hat in the ring.
Elite mare show Westfalia, Broodmare show Hannover, mare performance test, Young Horse Test, ... she is always at the forefront and inspires with her three impressive paces and her outstanding ease of riding. We intend to enable her a gentle access to the dressage world. Therefore, we take her for trail rides and give her a time-out every day with her friends and siblings in the meadows. we are excited to see her developing.
Hannoveraner Rappstute, geboren am 30.04.1999
Hannoverian black mare, born on 30th April 1999
Weltmeyer
World Cup I
Woermann
St.Pr.St. Sendernixe
St.Pr.St. Anka
Absatz
St.Pr.St. Adelsbuch
Atacama
Akzent II
Absatz
Wega
Fiesta Mexicana
Ferdinand
St.Pr.St. Meefuerstin
Westvirginia ist eine ausstrahlungsstarke und typvolle Rappstute, die uns schon einige tolle Nachkommen beschert hat. Sie hat perfekte Muttereigenschaften und ist ein tolles Herdenmitglied. Selbstgezogen und selbst geritten haben wir Westvirginia 4-jährig in die Zucht genommen. Allein in den letzten 3 Jahren hatte sie Fohlen von:
- 2017 Millenium (Hengstfohlen)
- 2016 Morricone (Stutfohlen)
- 2015 For Romance (Hengstfohlen)
Aus der Mutterlinie stammen so bedeutende Hengste wie Goldferdl, Damocles, Wendelin I und II, und weitere Privathengste. Es ist der Stutenstamm der Fiesta Mexicana (v. Ferdinand). Da wir eine mittlerweile 10-jährige Tochter von ihr (v. Hotline) in die Zucht nehmen wollen, möchten wir unsere "Prinzessin" in engagierte Züchterhände weitergeben.
Westvirginia is a beautiful black mare, who has produced very good offspring already. Bred and ridden by us we started breeding with her when she was 4 years old. Only in the past 3 years she had offspring from:
- 2017 Millenium (colt)
- 2016 Morricone (mare)
- 2015 For Romance (colt)
From her motherline stem such important colts like Goldferdl, Damocles, Wendelin I und II and diffenernt others. The motherlines goes back to Fiesta Mexicana (by Ferdinand). As we want to start breeding with one of her daughters, who is already 10 years old (by Hotline), we would like to forward our "Princess" to engaged breeder hands.
Finette
Braune Hannoveraner Stute, geboren am 20.02.2006
Brown hannoverian mare, born on 20th February 2006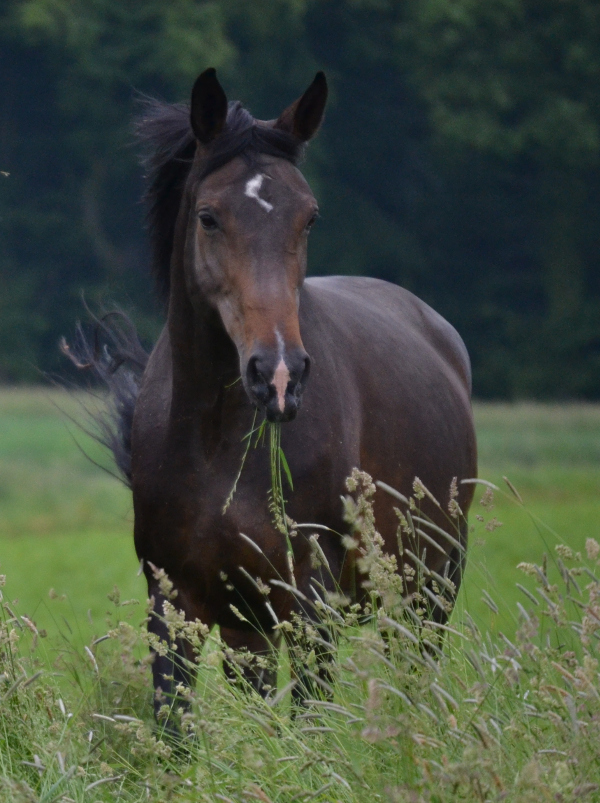 Florencio
Florestan I
Fidelio
St.Pr.St. Raute
Walessa
Weltmeyer
Pirelli
St.Pr.St. Duenett
Duerkheim
Duft II
Wunschfrau
St.Pr.St. Winnie
Wittelsbach
Drilla
St.Pr.St. Patrizia (Hann. Springpferdeprogramm)
Hannoveraner Fuchsstute, 03.06.1989 - 02.11.2015 (26 Jahre)
Hannoverian chestnut mare, 3rd June 1989 - 2nd Nov. 2015 (26 years)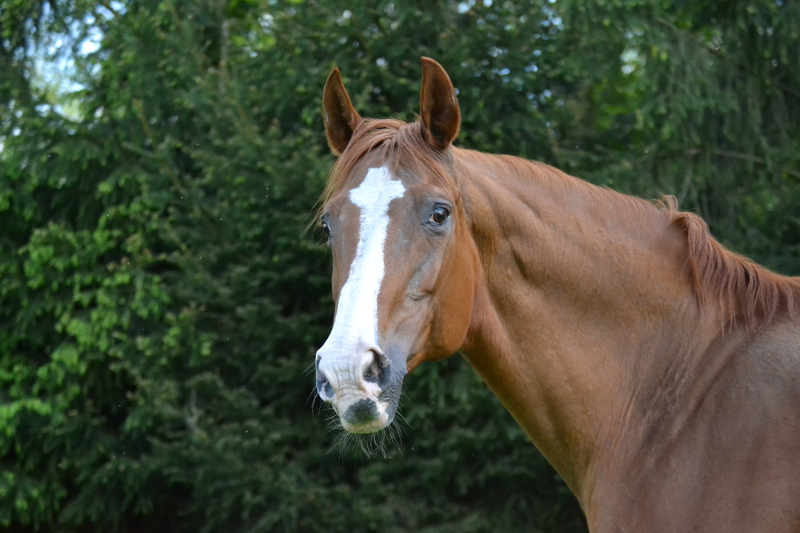 Grannus
Graphit
Grande
St.Pr.St. Frutana
St.Pr.St. Odessa
Ozean (Trak.)
St.Pr.St. Gitta
St.Pr.St. Preciosa
Inschallah AA
Israel AA
Resena X
Pamina X
Shagya XXXIX (Shagya)
Pieruschka X
Pedigree Zuchtwert: 141; im Hannoverschen Springpferdeprogramm; war Mutter eines gekörten Hengstes und von diversen sporterfolgreichen Pferden bis Klasse S.
Pedigree breeding value: 141; was part of the Hannovarian Jumper Breeding Program; was mother of a licensed stallion and various sucessful horses in sport up to S-level.