Reitpferde aus unserer Zucht
Sport horses from our stud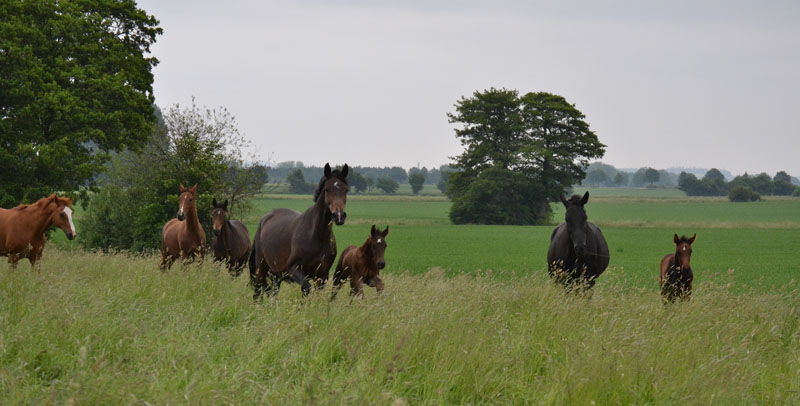 vorne Stute von Florencio mit Hengstfohlen von Damon Hill,
hinten rechts Stute von Weltmeyer mit Hengstfohlen von Lemony's Nicket (geb. 2013).
Unsere Kids aus 2014/2015. Alle 3 von For Romance. Und der kleine Rabauke ist unser 2 Wochen altes Stutfohlen.
Willkommen
Auf diesen Seiten möchten wir Ihnen unsere Verkaufpferde präsentieren. Sämtliche Pferde haben wir selbst gezüchtet und bis hierher täglich begleitet. Von der Entscheidung über die Anpaarung, über die langen Monate der Spannung, ob alles gut geht, bis hin zur Geburt, wir waren immer dabei. Fohlen, Jährlinge und Zweijährige gehören aus unserer Sicht auf die Weide. Wenn es eben geht erleben sie den ersten Schnee auf der Weide. Wir begleiten die Pferde durch ihre Kindheit und auch beim Erwachsen werden. So longieren wir sie und reiten sie alle selber an. Denn es ist für uns ein spannendes Erlebnis wie sich das Pferd unter dem Sattel anfühlt, das wir selbst gezüchtet haben. Denn für uns ist die Pferdezucht und das Reiten ein Hobby und eine Herzensangelegenheit. Unser Ziel ist es, freundliche, Menschen bezogene und rittige Sportpferde zu züchten. Nach und nach lernen alle Pferde folgende Herausforderungen kennen:
Reiten in der Halle und auf dem Aussenplatz
Stangentraining, Cavaletti, Springen
Laufen lassen in der Gruppe, Weidegang, Paddock, Führanlage
Ausreiten, Verladen, ...
Sportlich bringen alle Pferde großes Potenzial mit. So gibt es Pferde, die Dressur, Prix St. George laufen, ... und zugleich sind sie charakterlich so toll, dass wir schon Pferde an Teenies und Wiedereinsteiger nach schwerem Reitunfall verkauft haben. Wenn Sie ein Pferd suchen direkt vom Züchter, mit dem sie diese Saison noch voll durchstarten können oder einfach nur ins Gelände wollen, dann schnuppern sie doch mal rein unter "Verkauf".
Hengstfohlen von Damon Hill x Florencio (geb. 2013)
Welcome
On these pages we would like to present our horses for sale to you. We bred all of the horses on our own and accompanied them until today. We were with them every single moment, from the decision on the mating, through the long months of eagerness that everything will be okay until the day of birth. Foals, yearlings and two-year olds are to be kept in the pasture, that's what we believe in. Therefore, we keep our horses there until the first snow in winter. We accompany the horses during their childhood and when they become adult. Hence, we longe them and break them on our own. For us it is most exciting to experience what a horse feels like under the saddle, which we bred and brought up. Step by step a youngster learns to face the challenges of every day:
Riding in the arena, indoor and outdoor
Cavaletti training and show jumping
loose running in the group, grazing in the pasture, staying on the paddock, being in a walker
going for a ride, being loaded, ...
Breeding and riding is a hobby for us ... and an affair of the heart. Our aim is to breed sport horses, who are friendly and rideable. All of our horses have a big sport potential. Thus, there are dressage horses competing in Prix St. George, for example... and in the same time they have such a perfect character that we selled horses to teenagers and returners after a heavy riding accident. If you search a horse directly from the breeder, with which you can launch a sport career in full speed or simply go for a horseback ride, than why don't you stroll through the "Sale" page.